HOW IT WAS BORN: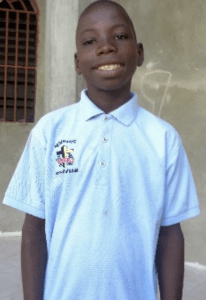 The Paul Project Deaf Center, named after Pastor John Summer's son Paul, began from his concern for one resident deaf child at Place of Hope.  With a deaf son of his own who was without hearing, it was impossible for this pastor to walk away from a deaf child in the Haitian culture without hope of any education or meaningful future.
Without meeting space available, Andre suggested the tiling of the carport and conducting of the class in that area.  The idea struck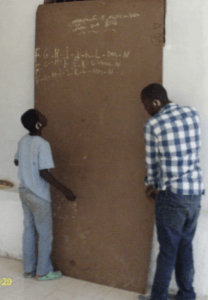 home and Pastor John provided the money to tile the rough cement floor for use as a classroom.  With a discarded piece of Masonite and a few small pieces of chalk, instruction began.
WORD SOON SPREAD about the Paul Project Deaf Class and soon other children were applying to be admitted.  They walked long distances from remote village areas. Just getting to this class was a huge obstacle for the students. Andre asked Pastor John for money to tile the floor of a vacant room to house these new students. The Class was GROWING AND GROWING!  Our teacher, Lincee, was hired and paid out of funds raised by Pastor John.  This was Lincee's first job and an opportunity to share his gifts with others less fortunate.  Lincee applied himself completely and has performed miracles with these students.
FALL 2017 – CONSTRUCTION WAS COMPLETED FOR SPECIFIC CLASSROOM SPACE for the Paul Center Deaf Class.  A small team recently painted and furnished the new Deaf Class at the center, equipping it with a large desktop computer for practice and training sessions and study of important sciences, including ASL.  A new laptop computer is on site in this classroom to enable students to become acquainted with computer technology and learn the use of higher tech equipment.  It also serves as a visual instructor for teaching vocational arts and other important studies.
The Deaf Center project at Place of Hope is one of the most integral parts of the ministry on the campus of Place of Hope.   While it serves only a relatively few students in numbers, it fills what is a complete void in the surrounding community.
The theme motto of the Deaf Center is "REACHING HIGHER".  A picture created on a piece of brown cardboard box material by a team member, Roxanne Denmark, reflects this theme.  The blue Haitian Skyline, palm tree handprint leaves from the students and Pastor John, form a picture designed to inspire students to reach higher.
Deaf Students receive the same valued attention as other children at POH.
Deaf students receive some level of hearing via used hearing aids.
Deaf Students have access to vocational training in projects such as agronomy, animal care, computer training, and sewing.
Deaf Students participate fully in church activities along with others.
FUTURE PLANS 
Pastor John K. summers and Brian Hunter are actively engaged in efforts to enlist participation from other groups interested in assisting with a deaf ministry, and continue meeting with representatives from Gallaudet University in Washington, D.C., the leading Deaf University in the nation, for participation in camps and seminars to improve our service and increase knowledge of our teachers.
In our plans include:
Deaf Camps, with exposure to other deaf students from other areas.  We have local facilities that are rentable that can house and care for large groups of students who can be led by teams of summer outreach students from Gallaudet and church groups to assist the deaf in better understanding of life skills.
Summer training trips for adults and students to share experiences and provide encouragement.
Equipping the classroom with large earth globe and wall charts to enhance understanding world geography and national origins, and assisting teachers in communication.
We envision expanding our outreach into remote villages in the mountains nearby where deaf children are located but unable to be reached via our school itself.  Once students are trained, they can be sent out to train others.
Providing bicycles at POH for training the deaf to ride as a part of accomplishing skills necessary to future life needs.
HAVE A HEART FOR THE DEAF?
IINTERESTED IN DONATING?
WISH TO JOIN A TEAM TRIP?
Contact us on through our website, or contact Pastor John Summers at 4781 Mali Ct. Bonita Springs, Florida 34134 or telephone 239-992-9389.
Every Child Deserves A Chance To Succeed