Home For Children
Ask almost any child at Place of Hope about what their life was like before coming here and they will tell you that it was a combo of things connected with poverty like hunger, lack of an education, having no parental love, fear and loneliness. Now they feel they have a family of brothers and sisters, food on the table, parental love, an education and above all a spiritual home where they hear about Jesus and come to know Him personally. The members of the staff at Place of Hope work as a team to provide the kind of family atmosphere that is reason for them to have a desire to succeed. Both Junior and Meshach are big brother images. Denise is literally the eye of the kids and a capable assistant to Wilna who is literally the housemother of them all. Andre and Angie are viewed as the only parents the kids have. Those nearest to the children at Place of Hope will tell you that a dramatic change occurs in each child once they have come into the family.
Decent Clothing
Some of them come with barely any ragged clothing on, but you will see well-dressed children, always clean and tidy in appearance. The clothing may not be new for most of it comes from donated items. Once a barrel of clothing arrives at place of Hope, the family gathers around to unpack it. As items are taken out children can take anything that fits them and they like. Sometimes the only shoes are those in these containers, and many times only a new pair of flip flops.
First Indoor Toilet & Shower Facilities
For every child, it is a new experience to have an indoor toilet and running water to take showers in. It is their first time to have pure filtered water to drink.
Education
For every child, it is a chance to have a superior education and assistance in the learning process. It is their first time to have pencils and paper, and for most, the first time they have ever seen television.
Playtime
There is room to play together. They can safely roam over the 17 acres of campus, play soccer, shoot basketball, and scores of other games.
Excellent Food
There is always good food to eat. The older children are involved in preparation of the meals and clean-up. Almost every day they have a piece of chicken or fish, rice and beans, potatoes and carrots, and other fruits that are abundant in Haiti.
Clean Bed with Mattress
At night there is a clean bunk bed for them to sleep in. For most of these children this is a first experience for them.
Family Participation
Each child has responsibility. It is their job to take on tasks that are necessary like cleaning, sweeping, scrubbing, cooking, daily laundry and other tasks.
Discipline & Correction
Every child always has assistance as well as correction. The staff there are always read to assist with homework. Discipline is firm but non-combative. Children are made to understand the family values, and the importance of harmony.
Bible Teaching
Pastor Vilnor comes three times weekly to teach the children from the Bible, discuss moral issues, answer their questions, pray with them, and help them to learn how to apply Christian principles to their lives.
Place to prepare for the future
The addition of vocational training will prepare them for learning new skills that can lead to a place in the job market in Haiti, or beginning a business of their very own. Skills with construction, computers, rabbitry, bee keeping, Tilapia farming, gardening, sewing and crafts will sharpen their minds and give them goals for the future.
Evenings together
Evenings are times when the family sits together in the common gathering room, playing games, watching kids videos, singing and worship. There is usually a time for snacks too. They are expected to watch the evening news where they learn about their government and the important events in Haiti and around the world.
Education
Access to quality education remains a key obstacle to Haiti's social and economic development. Surveys indicate that approximately 35 percent of Haitian youth are unable to read and that the average Haitian child spends less than four years in school. These statistics show that a generation of Haitian youth is at risk for not having the necessary knowledge and basic skills to succeed in the labor force. Most schools in Haiti have minimal government support, lack qualified instructors, and are relatively expensive. More than 80 percent of primary schools are privately managed by nongovernmental organizations, churches, communities, and for-profit operators, with minimal government oversight. Approximately 75 percent of teachers in Haiti lack adequate credentials. For low-income families, annual school expenses account for about 40 percent of parents' income and can represent a significant financial burden.
Our basic reasons for beginning a K-12 school on campus at Place of Hope is to circumvent the above issues and go to the heart of education. Here are reasons our kids at POH are at risk:
– Local schools are limited in equipment and teachers.
– Our children must walk long distances daily to attend classes.
– During rainy times they are unable to get to school.
– There is little parental feedback to the orphanage of where a child stands and his or her needs.
By beginning our own school on campus we can do the following:
– Provide an attractive learning center with rooms and equipment not available in most public schools.
– Insure regular 5 days a week of schooling.
– Potential Sports activities.
– Adding of classes such as art, computer skills, music etc. that are not available in the public schools
– Hire qualified teachers at an attractive salary above that offered in the public school system
– Monitoring to insure learning testing and individual assistance where needed
– Additional on-hands time because of not having long distances to walk
– Open our school to parents and children outside of POH, charging fees commensurate with the public school.
We believe that every child deserves a family and adequate education to prepare them for future labor force and survival in a nation of poverty. These children can go on to become leaders in the communities around us and be contributors to change for the good of all.
Deaf School – "The Paul Project"
Conceived as a result of having his own son who was born deaf, Pastor John K. Summers, now 90 years of age, has poured his life, his savings, gifts, and energies into this project. The Deaf school is an integral part of Place of Hope, offering the only ministry of its kind in the Les Cayes Area, changing lives by giving deaf children and young people the gift of hearing for the first time in their lives. One of our students, a 16 year old girl who had never before heard a sound is among our students. Never before attending a school, Rosie came to us from a remote mountain village. Within the first few months of her time at the Deaf school she is now beginning to form words in Creole and in English.
Hope Church
HOPE CHURCH on the campus of POH IS NOW A REALITY! First envisioned many years ago by founder Andre Forges, it seemed an incredible and impossible task to complete.
A 300 SEAT CHURCH ON A REMOTE MOUNTAIN, AWAY FROM THE BUSY CITY OF LES CAYES, seemed like a pipe dream to some,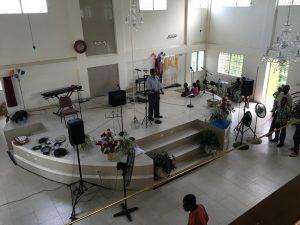 but with funds committed to begin, Andre took the leap of faith and started work. That's always His pattern of activity. When construction was started and the foundation laid, word leaked out about the project. A couple from Bay Presbyterian Church of Bonita Springs, Florida committed donations to begin construction of the proposed sanctuary.
Criticized for starting an incompletely funded project he forged ahead, Andre's explanation was that with committed funds, he had to act accordingly. In just a short
time, walls were going up and this church was taking form. Work continued as more funds came in from Canada and the U.S.
Word soon came to Bob Petterson, senior pastor of Covenant Church of Naples, and then spread to the churches' missions committee. Hope church needed someone to come alongside to bring it to completion. Covenant Church of Naples would be that tool. Commitment was made to the tune of big dollars and a pledge to fund the completion of this church came into being. Work forged ahead as gifted masonry workers scrambled atop fledging scaffolding Haitian-Style to finish the blueprint indelibly printed in Andre's mind. Funds were also committed to pay the salary of a full time pastor to shepherd this work. Villagers from nearby communities are now able to attend thanks to our faithful partners.
A first class sound system was recently installed compliments of Covenant Church and a technical team doing on-site work. Beautiful
keyboards are in place, along with other instruments to enhance worship sessions.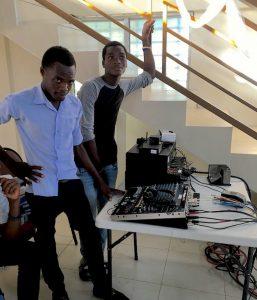 THE CHURCH STILL HAS NEEDS
The congregation sings without songbooks or music so we now seek to acquire a complete projection system. A laptop and DVD Player are already on site. So we now need a projection system to display hymn words on the front all of the sanctuary, estimated cost at $1,500.00

The second need involved added seating for the congregation. An additional 150 to 200 chairs are needed to increase seating in the balcony and main floor of the sanctuary. Estimated cost of $3000.00

Sunday School literature is essential, but funds are not available from local people to underwrite these costs.  Every Lord's Day, scores of people gather for Sunday School at Hope Church, along with many children who have limited available materials to use to enhance study and bring better understanding of the Gospel.

Children's Materials available local in Creole and French  $1,500 yearly

Adult class materials $1,500 yearly

Bibles for sanctuary use and to encourage reading of the Scriptures $2000 initial

COPIER FOR CHUCH USE $1000 initial

Note pad, pencils, sharpener, and paper $500 yearly

Individual carpet pads to wipe feet at entrance $500 initially

Easels & Pads for class use $500 initially

ASL Sign Language interpreter for the deaf needed to give meaning and understanding to the hearing impaired children and adults who have no other method of understanding the message of the Gospel. $1,000 yearly

Music Instruction is a great potential for drawing and training of Haitians. We have the instruments and the teaching space in the church. $1,500 yearly

Materials such as tracts in Creole and French are needed to build understanding  $150 yearly

Audio bibles in creole are needed for those unable to read $2,000 initial

PRAYER PARTNERS to pray for our staff and those being reached in the community

Missionary teams to help support evangelism in the community.
Medical Clinic
NO MEDICINES OR DRUGS AVAILABLE:  Can you imagine living in the poorest country in the Western Hemisphere where unemployment is close to 50%, and where medicines are scarce and most people depend on herbal preparations prepared by a local medicine man?  What if you were in severe pain and needed medication immediately, where would you go?

PREGNANCIES AND NEED OF MEDICAL HELP: As a young wife, you find yourself pregnant and in need of medical care, and you have no money, plus the nearest medical clinic is an hour away from you and you have no way of getting there except by walking. What would you do?

CRITICAL INJURIES NEEDING A DOCTOR'S INTERVENTION:  What if you were badly injured from using a machete and needed immediate medical help but you had no other resource except a local Voodoo medicine man?   Where would you turn?

LOSS OF SIGHT or HEARING:  And what if you couldn't see properly and you had no money or way to get any glasses. Where would you turn? Or if you had lost your hearing and needed to be examined and fitted with a hearing aid, but had no money, or any way to find assistance?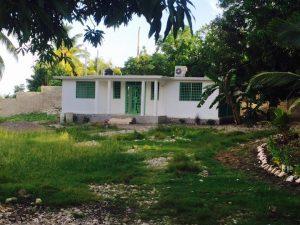 Place of hope's founder and architect, Andre Forges thought about that long ago.  He dreamed of one day having a beautiful first-class medical center on the campus of Place of Hope.  Without funds and no method of appeal, where would you turn?  Andre knew the desperate situation of all Haitian people, for he had been there and experienced it himself.
Andre had once been severely injured in a motorbike accident. A mule suddenly darted in front of him and he wound up with a broken leg that needed medical attention by a professional.   Fortunately for him, an American medical doctor who was on a mission trip was present at the hospital and was able to provide the care he needed.  Andre was among the few fortunate.
AFTER COMING TO AMERICA, Andre was at a local function where there were many attending, simply by chance, he met a Haitian man, whom he learned was the doctor who had attended to his broken leg in Haiti. Their acquaintance was renewed, and Andre relayed the story of how he had started the orphanage at Place of Hope many years prior with hopes to build a medical clinic. The good doctor immediately took it to heart and told Andre he wanted to help finance the building of this clinic himself. Andre was elated, and once again, construction began on a modern building on the far end of the campus that would house the new medical clinic. His dream was coming true again.
TODAY, a new medical clinic is opened at Place of Hope. There is a nurse on staff.  No longer is there a lack of immediate medical assistance, for the clinic is open to all in the community.
MEDICINES LINE THE SHELVES IN THE PHARMACY AREA; HUNDREDS OF PAIRS OF GLASSES LINE ANOTHER TABLE; THOSE WITH HEARING PROBLEMS CAN BE FITTED WITH DONATED USED HEARING AIDS.
All this because one man named Andre Forges dared to dream, plan, and move forward! The Medical Center is now a focal point of the community surrounding Place of Hope and a place where people find healing.
WANT TO DONATE TO THIS WORTHY CAUSE?
PRESENT NEEDS: 
Sponsors to underwrite the salary of the nurse and cost of a doctor on-site. $6,000

Vision screening equipment is needed to outfit the sight project.

Examination chair and table is needed for the facility.

Electricity is undependable so a dedicated generator to power this facility is needed. Estimated Cost  $8,000

A special refrigeration unit for some medicines is needed to preserve quality and continuity. Estimated Cost $3,000

All kinds of bandage materials, gauze, cotton, and medical ointments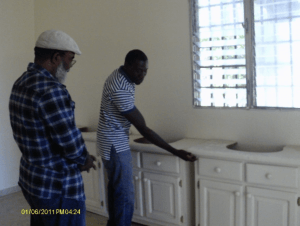 Fitting the new medical facility with storage cabinets, supervised by Mr. Andre Forges.  Nothing but the best would suit the cause.
Vocation
EAGER SEARCHING EYES AND HEARTS ARE EVERYWHERE IN HAITI.  That's the reason behind the robust vocational program planning that is done at Place of Hope in Haiti.  There is an old Navajo proverb, which serves as a reminder of the importance of helping a child or an adult to develop a specific skill, "Give a man a fish, and you feed him for a day. Teach a man to fish, and you feed him for a lifetime."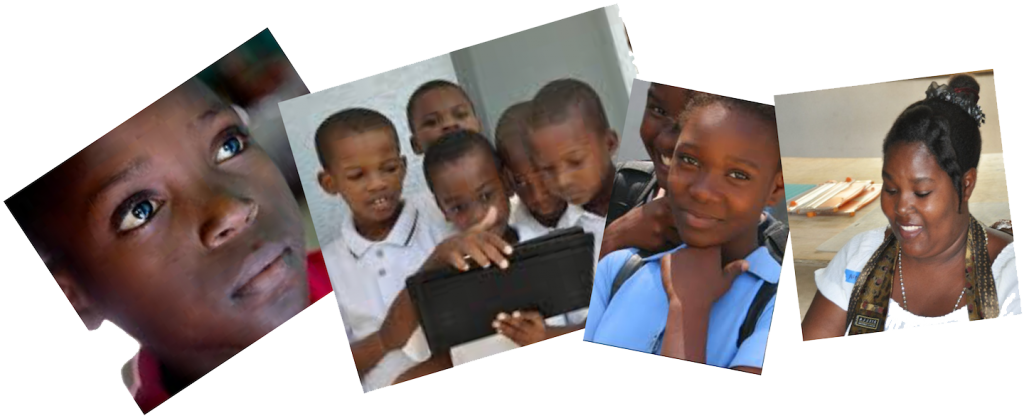 COMPUTER TECHNOLOGY:
At place of Hope we have developed plans for several vocational projects designed to help our Haitian children to learn not only to fish, but to develop technical skills that will put them head and shoulders in front of the future technological growth that is certain to come to Haiti.
COMPUTER LABORATORY:
Just mention computer to a Haitian young person and you have their attention immediately.  A large room has been constructed and developed into a first class lab for teaching computer skills to our children at the orphanage.    At specialty desks and tables, built by Haitian artisans, there are some 20 laptop computers, all donated by Hope for Haiti, all programmed for Haitian use, and just waiting for the scheduled classes to begin.
A University graduate has expressed interest in teaching this new class the fundamentals of computer science and the application of skills to business technology in Haiti.
WE NOW NEED SPONSORS TO COME ALONGSIDE AND SHARE IN THE SUPPORT OF THIS TEACHING STAFF with an ultimate goal of reaching out into the community to deserving village youth and children.  We believe this is the coming program to change Haiti to make it a progressive and advanced society.
SEWING AND FASHION DESIGN:
Place of Hope has opened a spacious and well-equipped SEWING LABORATORY with a trained instructor and several new sewing machines, including three older Treadle models.

This class is now crowded with eager hands and faces, both boys and girls, seeking to learn the skills of hand sewing, pattern making, basting methods, design, and fitting as it related to dozens of varied venues. A large number of our students have already shown promise of excellence in all phases of this class. Students with no prior knowledge, even some who are deaf, are developing pattern making skills and doing design work and embroidery, creating first models of required school uniforms for Haitian schools and working into more advanced skills.
Plans are to include creating sale-able items for the public marketplace, with a plan to help any young person start their own clothing design business by giving them a machine, and an advanced amount of money to begin their project.  That is literally "Teaching a man to fish!"
OUR NEEDS for this PROJECT:
Donated fabrics of any type

Any type of related sewing equipment, along with thread, and all normal sewing supplies such as buttons, needles, pins, safety pins, clasps, elastic banding, and a host of other things.

We are looking for a heavy-duty upholstery sewing machine

We would like to have pattern adjustable mannequins for fitting needs

Garment hangers and plastic garment bags are needed items

We could use 2 heavy-duty ironing boards and 3 or 4 new steam irons to accommodate students' needs for pressing.

Materials for creating window and even shower curtains, chrome loops, and eyelets with eyelet applier are needed.

Material for making bed linens – embroidery thread and hoops for embroidery work.
THE ANIMAL PROJECT  at PLACE OF HOPE IN HAITI
Raising Rabbits can change the nutritional food supply of  Haiti.  The Rabbitry project is already started at Place of Hope with 14 commercial built cages and a beginning pair of rabbits in place.  Students at the orphanage learn the skills of feeding, breeding, and selling of these fast growing animals that furnish a high level of protein meat to the diet.
Rabbits can be sold live in the markets. We can also teach others the art of raising these meat-producing animals and help erase poverty in village after village in the remote mountain areas surrounding Place of Hope.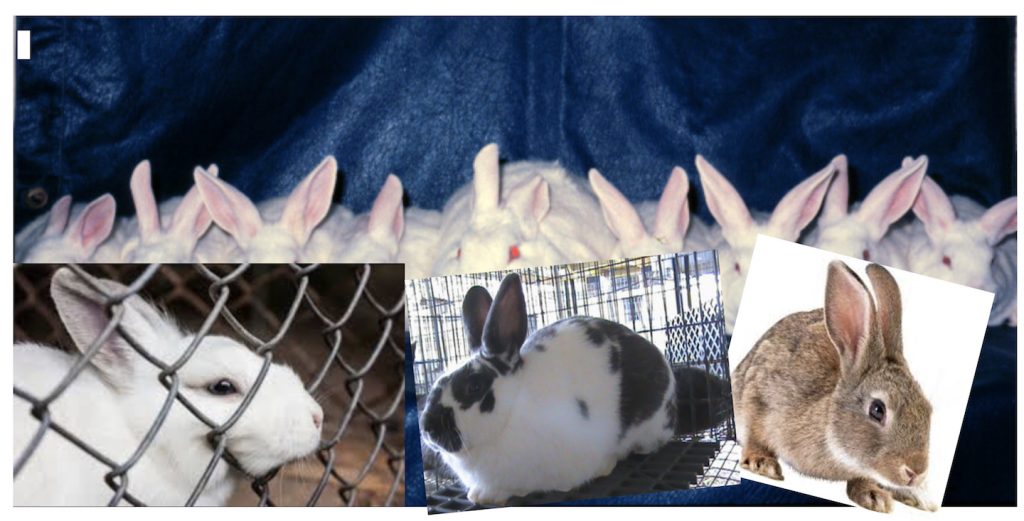 OUR NEEDS FOR THIS PROJECT TO CONTINUE TO SUCCEED:
Sponsors to underwrite purchase of food pellets and necessary birthing pens

Construction costs for cage improvements and protection from the weather elements in Haiti

Wheelbarrow for collection of rabbit droppings for use in garden areas as fertilizer

Future preparations for butchering skills taught by professional Haitians in the area

Potential need of other cages and cage making materials, roofing etc.
MASONRY & CEMENT SKILLS are the future of Haitian recovery
Construction is virtually all done with cement
We feel this project of teaching the skills of masonry are a critical part of our vocational program.  We have an available teacher with excellent skills, and a trade school graduate.  We are preparing to start this program in the fall of 2017.

OUR PRESENT NEEDS:
Funding for the teacher Estimated $2,000 yearly
Cement blocks and supplies Estimated  $1,000 yearly
Tools and equipment such as trowels, blades, etc. Estimated  $1,500. Initial
Small Storage shed for these items Estimated  $2,500. Initial
Students can learn effective skills related to construction, use of rebar, finish plastering, setting windows, tiling, floor support and cement roof applications, along with a variety of other related skills, enabling them to participate in the most viable job market in Haiti.
ENGLISH AS A SECOND LANGUAGE
One of our outstanding vocational programs is the development of English as a second language.  We have one of the most outstanding teachers in all of Haiti to tutor and teach this group of students.
Every child at Place of Hope is part of the varied age groups that meet daily in the large upper classroom at the orphanage. Learning English will put these children ahead when employment opportunities become available.  Some can also become educators and trainers for others.

Every Child Deserves A Chance To Succeed