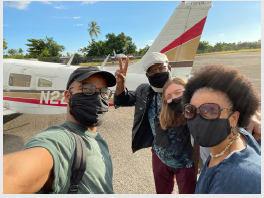 If you would've told me 3 years ago that I would be going to Haiti in the middle of a global pandemic, I would've said, "Ha, not surprised." While I'm only partly joking, going to Haiti is an experience in itself. But going to Haiti while COVID-19 was running rampant and there were new, previously unknown hurdles to cross, was something else completely.   Hi, my name is Whitney and I'm Djino's wife and Andre and Angie's daughter in-law. I went to Place of Hope in Haiti in December 2020. I know what you're thinking and trust me you're not the only one. But to be honest, it wasn't as crazy as it sounds! The travels were pretty smooth, and once we got to Les Cayes it was amazing to be there.
As far as the traveling goes, we had to wake up early (probably earlier than you're thinking) and make our way to Miami. Because Andre and Angie have been doing this for years, everything was planned out and set up. The best part was taking the little plane from Port-au-Prince to Les Cayes. That might sound scary to some, but I enjoyed it. The views were unreal! The first and last days are pretty much just dedicated to traveling, so once we got to Place of Hope the sun had just set. I could barely see my surroundings, pretty much just the warm and welcoming people there.
While we were there, because it was during the thick of the pandemic, we wore masks. We wanted to be extra careful to not spread anything that shouldn't be spread, even though we took the necessary precautions beforehand. But because of that, it was a little hard to reciprocate the warmth and openness to the kids. The good news is it didn't take long to overcome that hurdle. I want to warn you, your heart will grow bigger for these kids and this place. The kids are hilarious and sweet, each one unique and thoughtful. They were on winter break when we were there, so it was nice to be able to spend time with them. The staff is hospitable and made up of incredible people.
Djino gave me a tour of the place and let me tell you this property is beautiful. I mean, you've got the building that houses the kids with the rooftop, the church, the schools (elementary/middle, deaf, carpentry, sewing, and mechanic), the garden, and I can't forget the goats, chickens, and rabbits. We checked in on the clinic, which is soon to be turned into a guest house for missions (a current project with extra sets of hands welcome)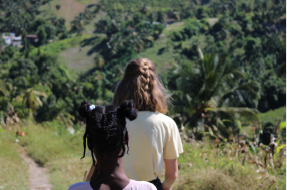 Because your phone doesn't work that well, it kind of pushes you to be present. It's great because it helps you notice the nice breeze coming through and the beauty of where you are. It provides space to connect and the worries of life back in the States to quiet down. It was nice to be there and nowhere else. It was nice to be present when we went into town to get some of the boys new shoes and suits. It was interesting to see the everyday life of the community.
You can clearly tell that God has a beautiful plan for Place of Hope in Haiti, and Andre and Angie bring that to fruition so well with their genuine heart posture. I know Djino and I are honored to be a part of it. You can see God's hand on the kids, the grounds, and the mission. By the end of the week, it felt like we didn't have enough time. The people, the food, the area, the community; all made the trip even sweeter. I feel so grateful that I get to continue going back and extend whatever help that I can. It was an amazing family trip, and I'm so excited to get back there and get my hands dirty- metaphorically and physically.