A Place of Hope in Haiti announces New Outreach Directors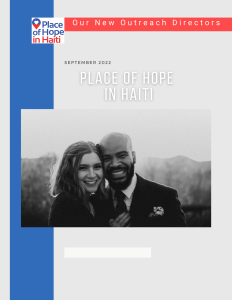 A little bit about them….
Hi! We are Djino and Whitney Forges, a newlywed couple who will be taking up the responsibilities of the Place of Hope's stateside team. We're learning from Andre and Angie as much as possible while they focus on running Place of Hope on the ground in Haiti. We are excited to be more involved and hope to help as much as possible. I grew up watching my parents, Andre and Angie, grow Place of Hope into what it is now and it has Inspired me to do the same. Whitney grew up watching her parents have a heart for helping people. She visited Place of Hope in December 2020 with myself, Andre, and Angie. After seeing the place, people, and cause, she just knew she had to be a part.
What we Do And How you can Help
Djino and Whitney are going to help organize team trips, find ways to raise money, and connect churches and its people to Place of Hope through the website in a new way. Great things are going to happen at Place of Hope and we would love for you to be part of that journey too.
If you're wondering what that looks like for you, there are various ways to get involved. One of them is going on a trip with us down to Haiti. If that is something you're interested in or simply want more information, please feel free to get in contact with us. At the same time, we understand that money is tighter than ever in this economy. Trips can be expensive, and if you only have so much to give, there is an option to sponsor a child. Another way to get involved is to be connected through our social media and website. Liking our Facebook page, following us on Instagram, sharing our posts, and checking in on our website would also be a great help. Lastly but most importantly, prayers would be greatly appreciated as we step into this new role and do what we can for Place of Hope.
Contact us
Phones: +1 239 784 4545 / +1 239 777 1089
Mail: Placeofhopeoutreach@gmail.com
Website: www.placeofhopeinhaiti.org